Every accounting practice has dealt with clients who cause filing delays. It's not uncommon to come across clients who don't return your phone calls or don't send paperwork until the last minute. Although they can get away with sending paperwork late sometimes, that isn't the case during the busy seasons. You might find yourself wondering, what happens when delays occur during the peak tax filing season?
Such situations can often cause headaches for accounting practices. You can't do much except try to convince your client to be more proactive with sending documents. After all, if you're handling their tax filings and accounts, you're also their trusted advisor. Technically, it's your duty to guide them in the right direction. Nobody wants the IRS to come knocking on their doorstep.
Hence, we've prepared some tips to help you approach client filing delays. Let's assess them in detail.
How to Approach Client Filing Delays
Here are some tips to help you approach client filing delays. They include:
Set Clear Expectations
Client relationships begin with the onboarding process. The onboarding process prepares clients for working with your firm. Use this opportunity to present them with an engagement letter. The contents of an engagement letter can detail the expectations for both parties. Make sure you mention all the objectives both parties want and how to meet them. You can discuss objectives during an initial value conversation during the onboarding. In addition, ensure that you communicate clearly with the client. You'll want to maintain transparency at all times. Let clients know how your firm will help them and the part they can play to ensure your operations continue undisturbed.
Simplify Their Responsibility
Ideally, you'll want to simplify the client's responsibilities from the get-go. After all, clients come to accounting practices for assistance, expertise, and convenience. You can do so by investing in accounting practice management software. Accountant Workspace is a cloud-based accounting practice management software that can help you with improving client relationships. Our platform features a unified and comprehensive client management system. There's also a client dashboard that serves as a single entry point for stakeholders to view client details.
Furthermore, the client dashboard includes tabs for communication, invoices and projects, tax filing status, and more. You can use the unified client management system to view each client's history. In addition, clients can also use the platform to see how you're handling their business.
In addition, our accounting firm management software also supports third-party app integrations. You can integrate calendars that send automated reminders to clients for document submission. Likewise, you can also integrate e-signatures so clients can sign documents easily.
Remind them of Fines and Penalties
Sometimes, you can't get through to your clients as the deadline looms. In such situations, you have very few options. All you can do is remind them that while extensions are possible, delaying due taxes isn't. The IRS typically applies a five percent penalty on unpaid taxes returned late. The only way to avoid this penalty is by showing a reasonable cause for late filing . In addition, the IRS also charges interest on top of the penalty. Therefore, if your clients delay tax filings without filing extensions, they'll have to pay more. You can use numerous Accountant Workspace features to help clients file taxes timely. For starters, Accountant Workspace's to-do list feature is visible to all stakeholders, helping them see the tasks required of them to fulfill. You can use these to-do lists to remind clients to send you their documents. In addition, Accountant Workspace also enables you to message numerous clients simultaneously. Doing so helps you to group clients causing delays together. You can notify them to send documents. Otherwise, they'll cause filing delays.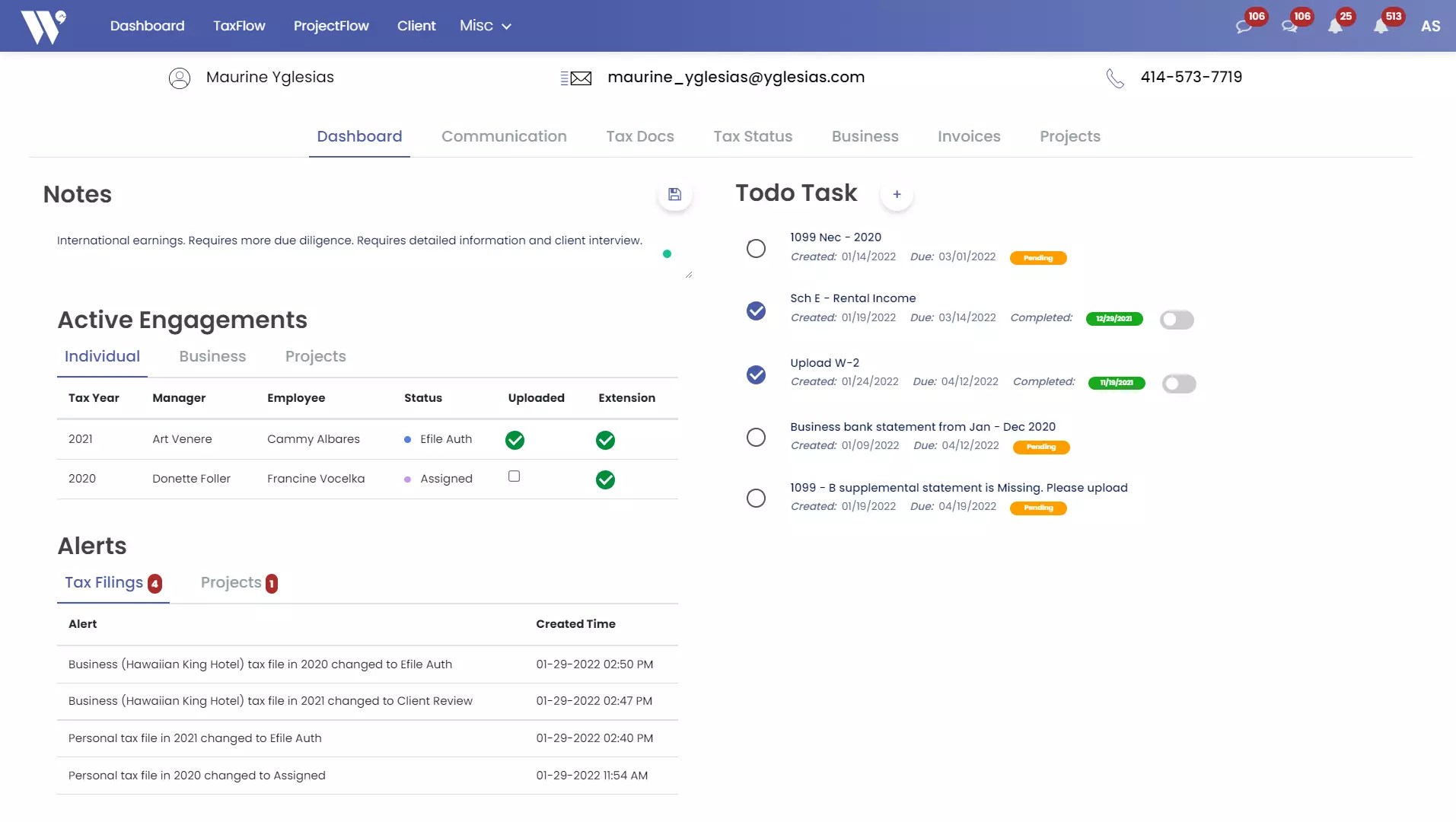 Prevent Client Delays with Accountant Workspace
Accountant Workspace is a cloud-based practice management platform designed by experienced CPAs for tax professionals.
If you're seeking practice management software that could change your business, consider Accountant Workspace. You can view the platform's full features list here
Visit our website for more information. Alternatively, contact us to learn more. We're currently providing free access to our accounting firm management software for the first three months.