Customer is king. You'll struggle to find anyone who can dispute these words. Organizations need to build relationships with their clients to succeed. After all, they're the cornerstone of your business's success, and accounting firms are no different. Accounting firms must focus on building long-term relationships with their clients for maximum client retention. One of the most effective ways to do so is by checking in with clients now and then. Client follow-up is something that many firms gloss over. Unfortunately, that's never a good approach. 
Client follow-up is an art that not every accounting firm masters. However, those who do, reap the rewards of it. When conducting client-follow up, focus on serving your client's needs. Accounting practices – and other businesses – often make the mistake of pushing their agenda instead of listening to client feedback. As a result, their client follow-up strategies fail, and they wonder where they went wrong. 
We've prepared some strategies to help you improve client follow-up with clients at every stage.
Strategies to Improve Client Follow-Up at Your Accounting Firm
Here are some strategies to improve client follow-up at your accounting firm at every stage. They include:
Potential Clients
Consider making follow-ups with clients a routine. Don't only send follow-ups when you're trying to secure a client. If you have meetings with potential clients, reach out to them via email. Likewise, also consider following up with them periodically after your meeting. For instance, you might want to send them another follow-up two weeks after your meeting. Ideally, your accounting firm will have client relationship management software that automates this process for you. Make sure to assess client interest when sending follow-ups. Interested prospective clients will respond more favorably to your follow-ups than uninterested ones. 
In addition, it would also serve you well to utilize different follow-up methods. For instance, consider switching up your approach by sending a follow-up email after your meeting and then calling them a week or two after.
Current Clients
When dealing with current clients, make sure to ask which communication mode works best for them. Every client is different. Some might prefer you contact them via email, while others ask you to contact them via phone. Asking clients their preferred communication mode shows your concern for their time and convenience. It helps start your relationship on the right foot.
Sometimes, you'll have situations with clients where you need to file documents urgently. Time is of the essence in such instances. Ideally, you'll want to avoid such situations by sending clients reminders. You can use client relationship management software to send automated reminders to clients. However, clients sometimes don't send you the required documents timely.
Hence, you'll want to simplify the process for clients. That's where our accounting management practice software thrives. Accountant Workspace features an integrated communications engine that makes communicating with clients easier. In addition, you can use the unified and comprehensive client management feature to track every client's filing status. You can also use the platform to request clients to send documents immediately. Clients can use their dashboard to fulfill your requests.
Past Clients
Clients often part ways with accounting firms. They might be unsatisfied with your services. Or they might not need them anymore. Regardless, always consider sending former clients a brief follow-up. Ask them for their feedback to show you care about fulfilling your clients' needs. You can also send clients helpful articles or blog posts to show that you care about helping them.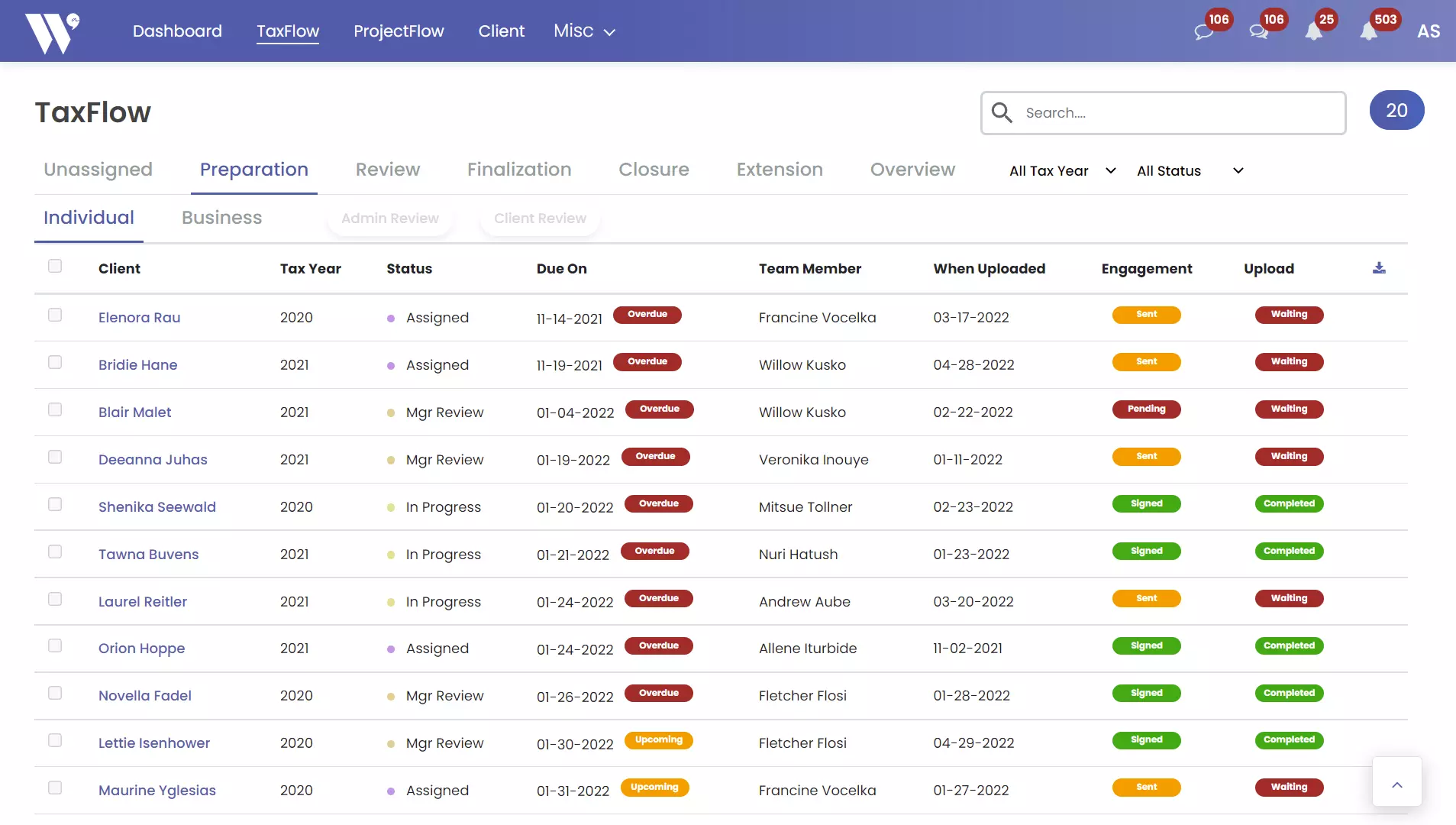 Improve Client Relationships and Follow-Ups with Accountant Workspace
Improving follow-ups and client relationships is never easy. However, the right accounting firm practice management software can simplify things considerably. Accountant Workspace is a workflow management software for accounting firms and one of the best practice management software solutions for accountants. If you're seeking practice management software that could change your business, consider Accountant Workspace. You can view the platform's features list here. Visit our website for more information. Alternatively, contact us to learn more. We're currently providing free access to our accounting firm management software for the first three months.